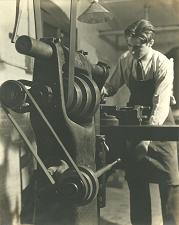 I I I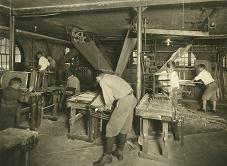 65 - 66
A closer look at Brian Morton on the milling machine, undated.


Child labor in the caned chair factory, undated.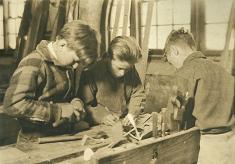 I I I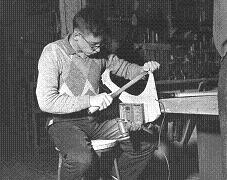 67 - 68
Future WWII veterans taking shop class, undated.

Glenn Fillman creating a Danish Modern lamp, late 50's. He now has it on eBay with no reserve.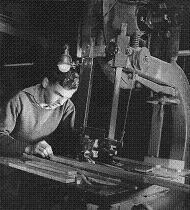 I I I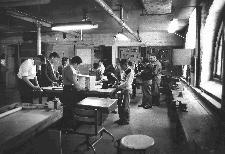 69 - 70
Pushing wood through the band saw, undated. "Look, Ma, no fingers".

Class of '63 in shop class, circa May '58.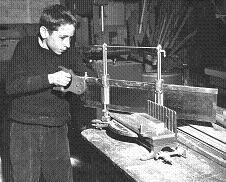 I I I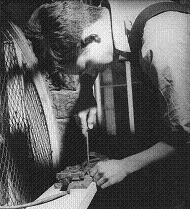 71 - 72
Is it Don Purdy or Larry von Radics on the miter saw? Likely D.P. in 1953.

Building a better mouse trap? Actu-ally it is an electrical switch, undated.
<!Pages 73 - 80>

I I I


73 - 74
Charlie Berry cautiously using a belt sander. Note the inverted chair.


Peter Puig design-ing and creating his own British Modern lamp.

I I I


75 - 76
Jim Mathewson on a radial arm saw. Careful, Jim! They tend to bite! Don't they?

Caption on back says, "Graders go through numbers of their dramatic musical". Undated

I I I


77 - 78
"CHILDREN WHO DIDN'T HAVE TO WAIT", undated, but '30-ish

Friday night mov-ies w/ boys right, girls left. Is that A.B. Murray, 3rd row from rear? Undated.

I I I


79 - 80
Girls' basketball prior to gym con-struction. 1930's?


The brass section in practice. Sepia says 1930's.
<!Pages 81 - 88>


I I I



81 - 82
Girls' calisthenics before gym con-struction, 1930's?

Thanksgiving dinner recital by youngsters, un-dated. Know any of them?

I I I


83 - 84
Thanksgiving din-ner, early 60's.
R. Freitag, W. Olsen, M. Ken-nedy and A. Ali recognized.

Who is this clown?

I I I


85 - 86
Unknown, undated "Martin" actor.



Martin Play cast: Angels are Gail and Penny King. "Martin Jr." un-known. Dec. '57.

I I I


87 - 88
"West Side Story" type production, dated March '66.


Glee Club present-ation in front of "The Mikado" scenery, circa 1956-1957. ID's later.
<!Pages 89 - 96>


I I I


89 - 90
Speaking of "The Mikado", here are scenes from the 1951 production. Cast unknown.

A scene from the 1956 Historical Pageant featuring Penny Klyce, Harry McCand-less, Peter Leland and Diane Sievers

I I I



91 - 92
Square dancing in the mid-50's. Coach Joe Fischer chaperon-ing.


More square dancing, circa 1957. ID's later.

I I I


93 - 94
Front of the library, undated. Appears to be in 1930's.


Library interior. Brian Morton reads alone, others unident-ified. 1930's


I I I



95 - 96
Another 1930's library interior shot, unidentified and undated.



The lineup of staff members shown on the next page (97).
<!Pages 95 - 96>



I I I


97 - 98
Staff photo from the 1941 yearbook "Ere We Part".

A suspicious shakedown, circa 1955. Shaker: Unknown. Shakee: Jim Anderson.





---




Back to the Archive Menu Page