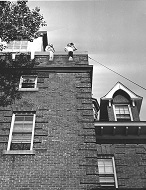 I I I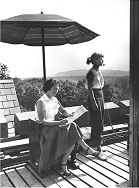 73 - 74
Manning the air-craft warning center. Individuals unknown, Mid 50's.

Mrs. Gwen Elliott & Pauline Wendt taking their turn observing UFO's. Mid-50's.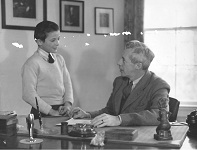 I I I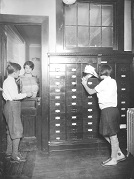 75 - 76
An unidentified boy chats with the director, Freder-ick Behrends, mid-40's.

Unidentified students visiting the Hope Farm Post Office. Undated.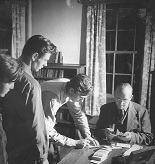 I I I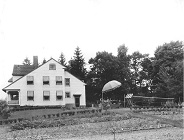 77 - 78
Student workers lining up for pay day. All unknown and undated.


Bittersweet, the Director's home, formerly known as Paine Cottage, later named Jonas (?). Undated.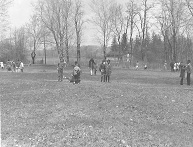 I I I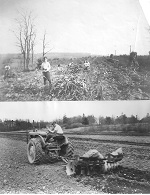 79 - 80
The old cannery in background. Plum children, foreground in the mid 60's.

Top: Unidentified boys working the garden, probably 20's or 30's. Btm: Unidentified boy disc harrowing, much later.
<!Pages 81 - 88>


I I I



81 - 82
Unidentified boys working in the garden with an unidentified staff member super-vising. Undated.

More of the same, except supervisor is on smoke break.

I I I

83 - 84
Two unidentified girls bringing produce to the cannery. Undated.

These unidentified boys are learning a trade that they will find lucrative fifty years from now. Unidentified and undated.

I I I

85 - 86
Bill Robertson plowing the field in 1958. By now, child labor work-ing in the garden had stopped.

A couple of un-identified WWII vets working with some other boys in the corn field. Undated.


I I I

87 - 88
A bunch of un-identified boys and girls hitching a ride on the pro-duce wagon. Undated.

Four guys harvesting the corn crop. Unidentified and undated.
<!Pages 89 - 96>


I I I



89 - 90
Five guys loading squash into the produce wagon. Unidentified and undated.

Left: Girls husking corn. Undated. Names
Right: Boys cut-ting kernels off cobs for process-ing. Unidentified and undated.



I I I

91 - 92
Unidentified boys working string beans. Undated.




Three boys pro-cessing tomatoes for the can. Unidentified and undated.

I I I

93 - 94
Unidentified corn crew taking a break. Smoke 'em, if you got 'em. Undated.


Staff member, Warren West and an unknown stu-dent canning the corn. 1950-51.

I I I

95 - 96
Capping the cans. A dangerous job. Warren West and Ed Crump, stu-dent. 1950-51.



Repeat of page 93.





---




Back to the Archive Menu Page