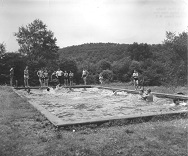 I I I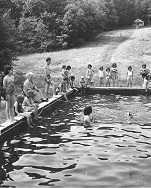 73 - 74
Boys "hour" at the camp pool with one female guest. Individuals un-known, August 1949.

Girls "hour" at the camp pool with Mrs. McKinley and one male guest. Girls unknown, June 1951.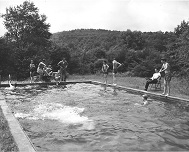 I I I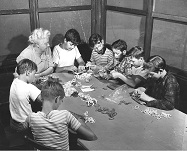 75 - 76
Okay, guys! Da goil is gone. Strip down! Da guys unknown in August '49.

Mrs. McKinley leading a Pot Holders 101 class with unidentified boys. Undated.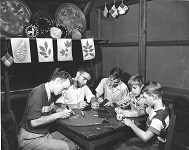 I I I





77 - 78
Bruce Murray & the guys working on leather crafts during the summer of '51. "Alex" (he now prefers) still uses that wallet.

Girl Scouts earn-ing their campfire merit badge, Unidentified and undated.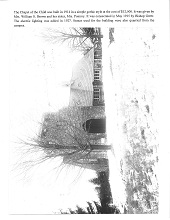 I I I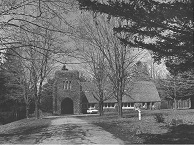 79 - 80
Chapel of the Child in the snow, built in 1914. Photo undated.



Chapel of the Child in spring or fall, you choose. Probably late 50's or early 60's.
<!Pages 81 - 88>


I I I


81 - 82
Unidentified children at the Chapel in June 1966.



Chapel of the Child, looking west, taken in late 30's or early 40's.



I I I



83 - 84
This scene exists today as it has for 98 years.



These ladies pos-ing at the Chapel appear to be liv-ing in the 30's or 40's. Unidentified and undated.

I I I


85 - 86
Coming to church on May 2, 1954. Photo by Al Mathewson.



Unknown boy waiting for a miracle? Undated.

I I I

87 - 88
Karin Townsend, Sydney Nesbitt, Maureen Meyer, Nina Devendorf, and Gary Wood. Circa winter/spring 1959.

Young boys going to church with an older escort. Unidentified and undated.
<!Pages 89 - 96>


I I I


89 - 90
Same scene as Page 85. Just a little closer.



The early bird gets the worm. First one in. Unidentified and undated.



I I I



91 - 92
All's quiet. No one's home. Undated.



Gosh! I didn't think my sermons were that bad. Unidentified and undated.



I I I




93 - 94
Full House. One member of the choir dates this photo to no later than 1958. Guess who?

Same sunday, but you can't see Gayle Houser's face in this shot. She left in 1958.


I I I

95 - 96
A choir from a different era, unidentified, but possibly April 1951.



Ditto except undated.
<!Pages 97 - 98>




I I I



97 - 98
This choir served no later than 1958 as Suzie Murray and the King sisters graduated that year. Dated 1/19/58.

All quiet again. The end? Or just the beginning?.





---




Back to the Archive Menu Page