JOHN DEE HUDNOR
His pleasant personality, catchy smile, and sense of humor make him fun to be with. He is generally interesting to talk to and easy to get along with, but tends to be quick in passing judgements.
He believes in getting things done and getting them done right. He is admired for this and often been asked to be a leader in class and community affairs, but he didn't always want to take on these responsibilities. He an-swered these requests somewhat by being vice-president (3) of the class and editor-in-chief of the yearbook.
"Hud's" favorite sport and topic of conversation is football (1, 2, 3, 4).
At this time, his ambition is to get a college education.
Motto: To be heard, speak up; to be seen, stand up; to be appreciated, shut up.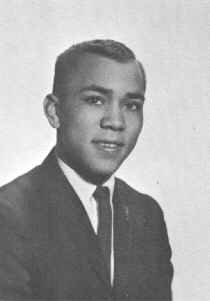 PATRICIA GAIL JORDAN
Pat contributes most to our class in the way of artistic ability, original ideas, and her infectious laugh. When she develops her ideas to maturity, they are quite efective. However, she often tends to be slow, thus retarding their progress.
She enjoys playing sports, but because of the time element involved, has only played softball (2). Although she was unable to participate in girls' sports, she had the distinction of being a cheerleader (3, 4).
As a citizen of the community, Pat has been a member of the Glee Club (2), and the Activities' Committee of the Community Association (3, 4).
Foremost in Pat's goals for life is that of being a homemaker. She has a challenging job ahead of her, and success should make her very happy.
Motto: When you smile, the whole world smiles too.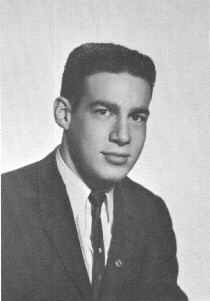 ROBERT JENKINS
Ambition is one of his outstanding characteristics. With a little more confidence in himself and patience towards others, he will probably be a successful businessman. To help him acheive this aim, Bob is planning to take up Business Administration in college.
Bob has shown much athletic ability in his participation in football (1, 2, 3, 4), basketball (2, 3, 4) and baseball (2, 3, 4).
He is the president of the Senior Class this year, and is showing his potentialities of becoming a good leader. He proved to be conscientious in monetary affairs when he was the treasurer (3) of the class.
In the community life of Greer, Bob was a member of the Greer School Community Association on the Activities' Committee. He won the cottage award (2) when he was in Rapallo cottage for making life more pleasant there.
Motto: Life is what you make it. Remember this, and you will be better off.