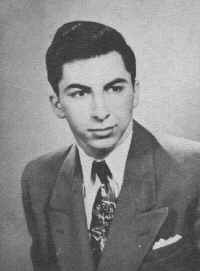 Robert Arthur Hougasian (Hoppy)
President
Born: New York City 19**
Entered Greer: 1941
Student Council, Y.P.F., Public
Speaking, President: 2, 3, 4
Editor-in-chief School Paper
and Yearbook, Martin Play,
Senior and Junior Plays.
Football: 2, 3, 4; Captain 4.
Basketball: 4. Baseball: 4.
Plans to enter college. "Doubt
whom you will, but never yourself."


Patricia Anne Dean (Pat)
Treasurer
Born: Brooklyn, N.Y. 19**
Entered Greer: 1946
Top Honors: '47, '49. History
Award: '48. Prize Speaking
Award: '47, '48. Representation
at Herald Tribune Forum: '49.
Athletic Letter: Hockey. Martin
Play, Junior and Senior Plays.
Glee Club, Assistant Editor of
School Paper and Yearbook.
Student Council. Enrolled at
Albany Teachers College.
"Life is like a game of chance.
I do not like the way the cards
are shuffled, but yet I like the
game, and want to play."